---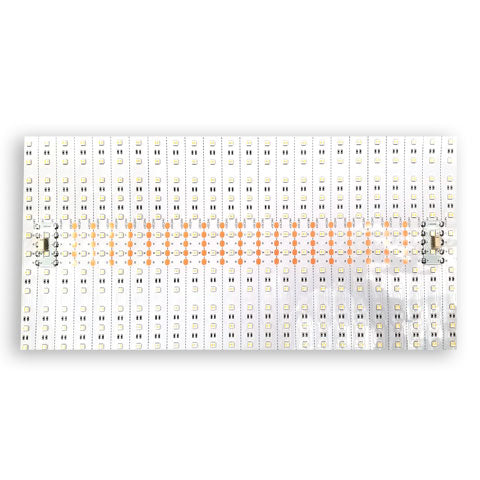 Flexi Sheet RL24-SH-RGBW
---
Description
A modular 24V LED sheet used for back lighting all manner of applications from Fabric displays , back lighting of bar displays, onyx or crystal bars and building back lit walls.
Bright (for RGBW) at 720 lumens per square foot the Flexi-Sheet RGBW provides a broad expanse of light from 288 LEDs that could be used in so many imaginative ways. The sheets have 2 power input connectors built into the flexible PCB so power can be fed into the sheet from the two short sides and the connectors allow jumping power from one panel to another to produce a virtually limitless color washing expanse of light.
Color control can be added using any DMX protocol allowing the use of large master DMX controllers or simple pre-set DMX color control with wireless remotes.
The advantage of using Flexi Sheet RGBW is that each LED has 4 color chips rather than multiple single color LEDs which reduces pixelation. Minimal back set for this RGBW sheet is from 2-4 inches from the image or diffuser(dependent on diffusion method).
The back of Flexi Sheet Soft is covered in 3M self adhesive for an aggressive installation to most surfaces.
Flexi Sheet RGBW is cuttable in strips of 12mm x 240mm (0.8" x 9.5" long). Cutting the sheets does not affect the circuitry in any way.
Features
Modular Sheet size of 9.5" x 19" (241mm x 483mm).
288 Pieces of 5050 4 chip LEDs.
12W of power
80+ CRI
The white chip color is available in four CCT of 2700K, 3000K, 4000K,
and 6000K. Please specify when ordering.
Cuttable in 24 strips at 12mm x 240mm (0.8" x 9.5").
Flexi-Sheet Soft comes complete with 5 wire jumpers for attachment of
other sheets and continuous color changing.
---
More from this collection
---