---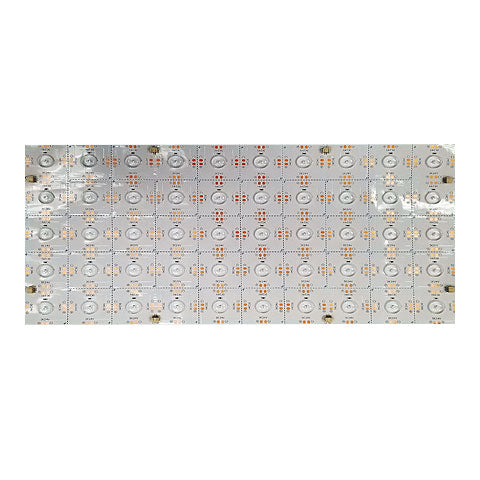 Flexi Sheet RL24-SH-S
---
Description
A modular 24V LED sheet used for back lighting all manner of applications from Fabric displays , back lighting of bar displays, onyx or crystal bars and building back lit walls. Bright at 851 lumens per square foot the Flexi-Sheet Soft provides a broad expanse of light from 50 LEDs that could be used in so many imaginative ways. The sheets have 8 power input connectors built into the flexible PCB so power can be fed into the sheet from any direction and the connectors allow jumping power from one panel to another to produce a virtually limitless expanse of light.

The advantage of using Flexi Sheet Soft is that each LED has a 160° lens which spreads the light evenly in all directions preventing any hot spots. This allows a minimal backset from the image or diffuser of as little as 1" (dependent on diffusion method) providing the designer with very slim panel dimensions for backlighting their artwork.
The back of Flexi Sheet Soft is covered in 3M self adhesive for an aggressive installation to most surfaces.
Flexi Sheet at 9.5" x 19" (241mm x 483mm) can be cut to size or to shape it around obstacles. Cutting the sheets does not affect the circuitry in any way. The cut size is 48mm x 48mm (approximately 17/8" x 17/8").
Features
Modular Sheet size of 9.5" x 19" (241mm x 483mm)
50 Pieces of 2035 LEDs
12W of power
90+ CRI
Four CCT of 3000K, 4000K, 5000K and 6000K
Cuttable at 48mm x 48mm (17/8" x 17/8")
Flexi-Sheet Soft comes complete with jumpers for attachment of other
sheets and hardwire input power wire.
---
More from this collection
---